Making your first foray into the world of online poker? Here's how to instantly turn yourself from wet-behind-the-ears newbie to seasoned expert, and enjoy the best possible online poker experience.
1. Find the right site: The first step towards enjoying a successful and enjoyable online poker career is to find the right casino. Make sure the poker site you use is hosted by a reputable provider, such as Skypoker. You should also bear in mind the quality of the software used, the customer service and the payout percentage – as well as the bonuses on offer for new starters. Most sites will allow joiners to play for free, so it's worth trying out a number of online casinos before choosing the right one for you.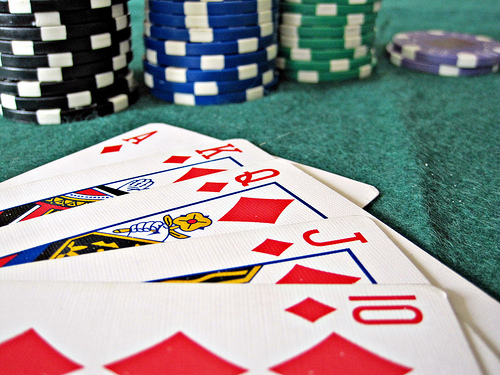 2. Practice makes perfect: The 'free play' option offered by most poker sites is a great example of how online poker can be more beginner-friendly than the traditional casino-based version. New players can learn the ropes without losing money, and playing for free will give you a good introduction to rules and tactics. Don't be afraid to ask other, more experienced players questions – and use poker forums both to get tips and make like-minded friends.
3. Be selective: One of the most common mistakes that those new to poker make is to play too many hands rather than holding out for the best ones. While any starting hand could potentially win, some have a far better chance of coming good than others. This useful article on starting hand selection is packed full of useful tips on how to select the best starting hands.
4. Keep bluffing to a minimum: The very best poker players actually bluff very infrequently. The key is to keep your opponent guessing – and if you're marked down as a consistent bluffer then you won't be taken seriously as a player and your bluffs will very rarely come off. If you're new to poker, then it's best to concentrate on knowing your cards and selecting a good hand than on tricking your opponents.
5. Start small: Finally, don't start your career at online poker in the high-stakes rooms. These will generally be populated by skilled players, and one of the cardinal rules of poker is to compete against players who aren't as good as you are. Stick to the low-stake rooms to start with, and work your way up to the big time.