About 10 years ago I was sitting next to a man to my right that drew a royal flush in Caribbean Stud poker and won $110,000. He gave everyone at the table $1,000 just for sitting alongside him, but I couldn't help but wonder what it would feel like if I had waited 30 minutes to sit down, and would have wound up in that same seat. This 5 second memory made me feel as though it was time to share with everyone how to play Caribbean Stud Poker. You will be surprised at what you learn.

The Odds
I played this game for 7 years before I found out that statistically, it had the worst odds in the casino. This was long before you could ever play Caribbean Stud online, and due to the complexity of the Internet, I couldn't really tell you what the "true odds" are today. What is known is that at any moment it can be a life changing game.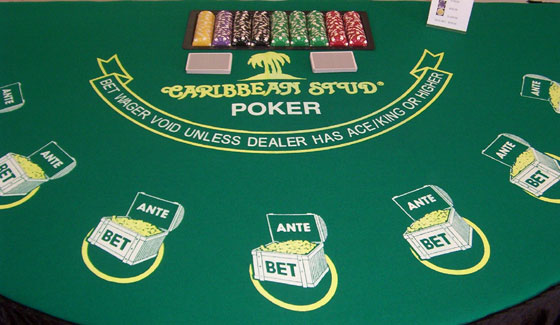 The Betting
In order to get started, you place an ante bet that is at least the table minimum. In most cases this is $10 at a brick and mortar casino, but online I've seen as little as $5. If you consider yourself a high roller, you can typically wager up to $1,000, but it will still depend on the online casino you use.
The Progressive Jackpot
If you want to take home the big money, you have to pay an additional $1 per hand. However, this is not mandatory, and there are additional ways to win progressive money outside of the major jackpot (a 3-of-a-kind or better will provide you with a bigger payout).
How Caribbean Stud Works
Once you have placed your ante and decided whether or not you will be playing the bonus, the dealer will deal you five cards (one at a time and alternate between you and the dealer). Locally your cards would all be provided face down, but when you play online you will be able to see them as they are dealt (on most sites).
The dealer's hand will have one card turned up for you to see. The reason for this is so you can have a better idea of whether or not you can beat the dealer's hand (I'll explain more about this in a minute). If you want to stay in the game, you must wager double the amount of your ante. This means if you're playing on a $10 table, you must spend an additional $20 to stay in the hand.
If you decide to stay in the hand, the dealer will turn his/her cards over. In order them to qualify; they must have at least an Ace and King in their hand. It's the lowest qualifying hand, so any hand higher will have at least one pair. However, if the dealer does not have Ace/King or better, the dealer does not qualify and you are paid even money on the ante. Your additional bet is considered a push, so you will be able to recoup that money.
If the dealer does qualify then you are paid as follows:
One Pair: 1 to 1
Two Pair: 2 to 1
Three of a Kind: 3 to 1
Straight: 4 to 1
Flush: 5 to 1
Full House: 7 to 1
Four of a Kind: 20 to 1
Straight Flush: 50 to 1
Royal Flush: Jackpot
Beating the Odds
The reason the odds are lower in Caribbean Stud when compared with other games is because you are playing against the dealer (like blackjack). There will be times when the dealer shows a higher card, which could mean they can qualify, even if you don't. The best advice I can give you is to never stay in a hand if you don't have anything in yours. Even though you might lose your ante bet here and there, you will be able to play a lot longer on your bankroll.