There are many different online poker sites to choose from and it can be difficult knowing which might be the best. Depending on the country that you come from, you will have different choices as well and it can all get rather confusing. However, there are a few things that you should think about before you start to look.
Firstly think about how much you want to spend on playing poker. You may prefer to play for free, play for small amounts or play for large amounts. Some sites will cater for all but many specialise in different amounts and so it is up to you to decide which you would like to have a go at.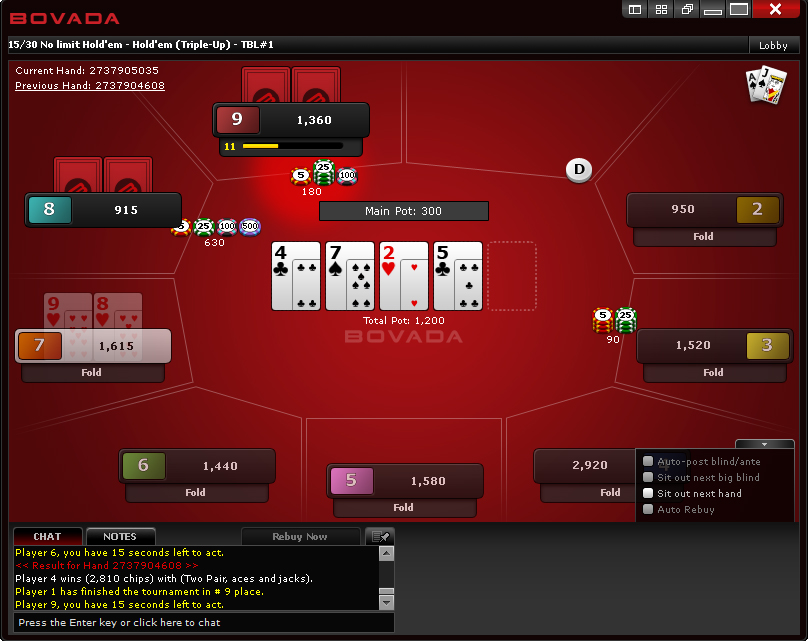 One site that is highly recommended for US and Canadian players is Bovada Casino. You are able to open a free account and it is easy to sign up to play. There are beginners tournaments, which are ideal not only for those new to the online poker game but also for those new to the site. It gives you the chance to get used to playing on that website before playing against more experienced players. Of course you can start right away and play some of the better players if you wish to. There are even games which will prepare you for playing at the world series of poker, if this is something that you are aiming for.
The site also has some great bonuses. They will match up to $1,000 as a welcome bonus, which means that you can get a large amount of free money to play with, if you want to gamble that much. It can be a good value way to play.
The casino also has a mobile app, which means that you can play on the go. This means that wherever you are, you can still play poker, which can be great. Whether you are bored on public transport, wasting time while waiting for someone or relaxing outside of the house, you will still be able to have a game of poker.
It is possible to play anonymously which means that other players will have no idea what your previous form is. This means that they will not know your style or capabilities, but you will not know theirs either. This can be fun for those who enjoy not knowing these things.
There is even a great way that you can play quickly. It is called zone poker and it is a method that allows you to play more games, more quickly. As soon as you fold in a game, you will quickly get placed in another game and so you will not have to wait for the current game to end. Some people may prefer to wait, but for those that are in a hurry to keep playing more games, this can be a great addition to the game.
If you are from US or Canada – Bovada is THE online casino that you have to join. You won´t regret it!