If there's one topic that usually gets the newbie poker players going, it would be the subject of multi-tabling. We're not big multi-tabling fans, for a lot of different reasons. For one, you need to make sure that you're focusing on the action at hand. If you're trying to multi-table without tools to make it easier, you're going to kill your winrate. You need to also make sure that your poker strategy is pretty decent before you try playing 10 tables at the same time. Some tables will be faster than others, and we feel that it slows down your ability to read and memorize how other players are behaving. This is also not a strategy that you want to take when the stakes get high. Trying to multi-table at 25/50 stakes is only going to make you angry. You have to be sure that you're willing to do just about anything and everything in your power to really get things done. The more that you work, the better off life will be for you.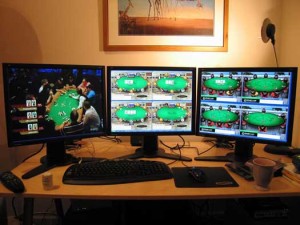 You just need to make sure that you're handling your side of the game by using the right tools. A heads-up display is a must so that you can leave notes on different players, see what type of player they're at. Playing with fish is ideal when you really want to steal blinds, but do you honestly want to play with sharks? This is stuff that you just have to know about yourself before you really can proceed. Some people will love the cat and mouse play, others will want easy targets. There's really room for everyone in the world of poker. You just need to figure out where you fit.
Again, it cannot be stressed enough: this is a numbers game. The last thing that you really want to do is try to get into the idea that you have to multi-table all of the time. You can always play a few tables here and there, or focus on one table. The action intensifies when you add more tables, because you really have to be sharp. In addition, the tension will also rise as you start moving up in stakes. Multi-tabling at microlimits is not the same as when you're running with the true sharks of online poker.
As long as you're willing to think about all of these things, there's really no reason why you can't get things done. Why not start today, while it's still on your mind? You'll be glad that you did!