Poker is a well loved game that has been around for a number of centuries. Nowadays, poker as well as several other gambling games has made their debut online and more and more people are beginning to play online as opposed to around a table with family and friends. There are a number of online gambling sites as well as online poker rooms that are allowing players to play from the comfort of their own home any time of day. But are there benefits to playing poker online?
Expand on Your Skills
Playing poker online allows you to expand on the skills you already have and know. This is going to help you advance and play against a computer or other real people. There are some poker rooms that are not based on real money and this becomes beneficial if you're a beginner you can learn all there is to know about poker. There are many that offer free trials which allow you to see if you like what a specific site offers.
Play in Your Spare Time
For some, playing in their spare time is important. There are many times that you work a later schedule and therefore can't make games that are in your area. Playing online allows you to play when you have time and when it's convenient for you. This is great for those who want to take up playing poker as a hobby. Some prefer to unwind listening to music and others like playing poker.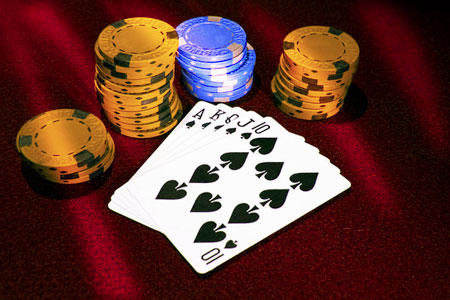 Commuting is Eliminated
Rather than having to go someplace to play poker, you have the option of staying at home. Poker can be tricky to learn so trying to go somewhere to learn while others are more experienced can be intimidating. Therefore playing online offers you the ability to choose from a few different rooms based on the site you play on. There are even some sites that will offer you the chance to receive a bonus for signing up. This gives you more money to play with if you are a little more experienced than some others.
Poker has become one of the world's most loved card game and from someone looking to play as a hobby to those looking to play in tournaments you'll find everything you need. It can easy to learn, and mastering it does take time and skills. The game requires a minimum of 2 people and most times there are at least 4 or more players at a time playing.
Playing poker online is much like playing the real thing and sometimes you can chat with other players. This is great for learning tips to improve your game and you are going to bet and everything just as you would with the real game. Other sites offer tutorials and videos to help make the most of your game.
If you are looking to get started in playing poker online, you'll find there are millions of sites to choose from all over the world allowing you to meet other people and to master the game in no time at all.