Poker is a form of gambling, we all know that. Of all the different forms of gambling that you will find, poker is regarded as having the "least" amount of gambling involved because to be successful, you need skill as well. Skill involves using strategy and it includes being able to bluff convincingly. But what about if you can't master one or both of these techniques? Well the simple answer is that you're in trouble and you would be better of avoiding poker and having a go at more traditional casino games that involve luck.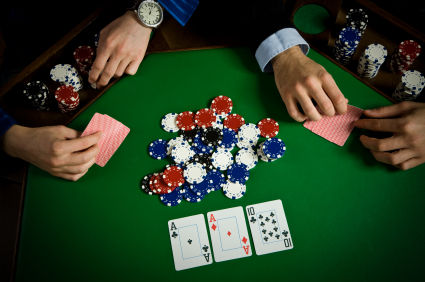 If all you want to do is rely on luck, then you would be best off playing slots, whether it is online or offline. The idea of slots is very simple, just select how many lines you want to bet on, how much you're going to bet and spin the reels, it really is as simple as that. Sometimes you will win, other times you won't and there's always a chance of hitting a jackpot. Although the chances of hitting the jackpot are slim, it does happen every now and then to a few lucky players.
The good thing about slots, especially when you play online is that there's such a wide variety of games to play with regards to themes. Gone are the days where every slot game is the same and the only way to get a jackpot is landing "777" or three jackpot reels. A lot of online casinos offer hundreds of different game themes such as Iron Man, King Kong and Lord of the Rings to name but a few of the different games that I've seen. The only downside to slots is that you're relying almost 100% on luck with no strategy or skill involved.
If you would like to play a game which is a mixture of both luck and strategy, then you would be best off having a look at roulette which is a very simple game to both learn and play. The wheel spins as does the ball, and it randomly lands in one of the 37/38 slots, this is where luck is needed. At the same occasion, roulette is a numbers game and you need to decide how much you're going to bet and how many of the different bets you're going to utilize with each spin. This is where the strategy comes into play although you need to remember that the odds are always there and you can't overcome them.
Of all the different casino games, the one that is the closest to poker is blackjack. The premise is simple, get your cards as close to 21 as you can without going over and you play against a dealer and you need to beat his total. Unlike with roulette where the odds are static, in blackjack the odds are always different depending on what hands both you and the dealer have. To get the most out of playing blackjack, you would be best off learning the game with a strategy trainer which will show you how to play with the best odds for every hand.
What you need to accept with all forms of gambling is that there will always be some kind of risk involved. With poker, it's the risk that you will come up against a better player or even if you're a good player, you may just be dealt a bad hand over and over. With casino games, the risk is that the house has more chances of winning than you do due to the odds of the games. Once you understand and accept this, you will enjoy the games more.