The hottest name in the poker world this year has to be Liv Boeree. Doing it for the girls, Liv is an impressive package — looks, brains and mad poker skills — making her the one to watch in the dramatic world of poker games.
Hailing from Kent, UK, Liv is the trailblazer of a next generation of trendy young things breathing new life into poker. An unlikely candidate for a career in high stake gambling, Liv has a degree in astrophysics from the University of Manchester and possesses an analytical brain that's a force to be reckoned with.
Quickly getting bored of a nine to five career as an online marketing analyst in London, Liv decided to use her ample talents — which include stunning good looks and an articulate and personable, lovable nature — in order to pursue a presenting and modelling career. This saw her land a gig as a contestant on a Channel Five reality show, Ultimate Poker Showdown, where her natural flair and unusual style caught the eye of poker pro Phil Hellmuth.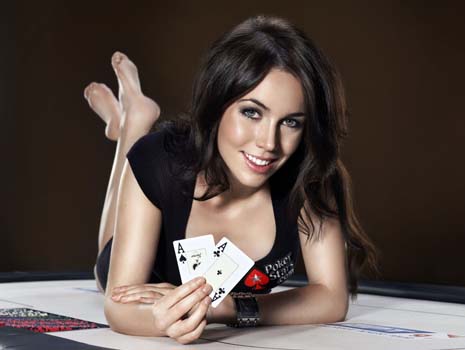 Liv was then coached by the poker great, and decided that the wonderful and weird world of poker was the one for her. The rest, as they say, is history; or more accurately, history in the making, as Liv is far from finished in her quest for global domination.
Her model good looks have made her a sponsor's dream, and a raunchy three page spread in FHM in 2008 is sure to have had a whole generation of young men taking up poker in the hope of one day taking a hot seat next to lovely Liv.
However, refreshingly for someone who is naturally a lad mag's dream, Liv describes her long term goal as "being a spokesperson for women"; with a natural 'girl next door' charm and an aversion to dressing up, Liv comes across as an accidental pin-up.
Despite being just 22 years old when she started out in the industry, Liv is no naïve pushover. Known for her steely edge, Liv has earned the nickname The Iron Maiden (aside from poker she plays electric guitar and is a rock metal music fan), and her ballsy reputation was cemented in 2007 when she 'stole' a prize fund of thousands from a fellow contestant on the ITV game show Golden Balls.
Liv seems to have learnt her trade through presenting, hosting and reporting on poker games, including the World Series of Poker in Las Vegas. Since then she's slowly been working her way up the ranks, and garnering a reputation as one of the best female poker players worldwide.
From an early win of $30,000 in the 2008 Ladbrokes European Ladies Championships, Liv is estimated to have won in excess of $2 million through live tournaments alone. Of course, sponsorship deals, endorsements, and modelling and presenting jobs could be worth a whole lot more to the unlikely Kent-born poker ace.
Liv's biggest win to date is over €1 million at the European Poker Tour in San Remo, on 21 April last year. As the third woman to ever win an EPT title, Liv is certainly catching the eye of poker fans for all the right reasons.
The world now seems to be at Liv's tennis shoe clad feet. She describes herself as being "absurdly competitive" in everything that she does. So much so that she goes on to say that she feels it's "important to be the best".
This fierce competitiveness shows in her admission that her ultimate ambition is to hold the 'triple crown' of poker'; an EPT (European Poker Tour) bracelet (which she already has), a WPT (World Poker Tour) bracelet and a WSOP (World Series of Poker) bracelet.
Coming from a stunning ambassador for women in poker, with a degree in astrophysics, plans for a doctorate and millions in the bank, this ambition seems perfectly achievable.